Don't Sell Yourself Short
Time for a story.
Several months ago, Zeal (the company I work for) moved into a new office. The space's design includes two chalkboard walls. There's a smaller one at the entry to the office, and a much larger one in our "coffee bar" area.
As our grand opening event approached, we needed a chalk artist to work some magic on the walls. We asked my wife, an artist herself, if she knew any chalk artists who might be interested in the work. She didn't, but then remembered that there is a chalk wall at our orthodontist's office that always has wonderful drawings. She suggested we find out who does that artwork.
I called and asked the receptionist who did their chalk art. "Oh, that's Jen. She's amazing!" Jen works in the office, but also does the chalk art. I learned that she also works in charcoal in her spare time.
"Do you think she'd be interested in a side project?"
"I'm not sure, but you should definitely ask her."
After a few e-mails were exchanged, Jen came in to meet with Trever. Trever is one of the partners in Zeal and has also been the main person designing the new office. He talked with her about the vision of the company and what we are trying to accomplish in our new space. He gave her a few rough ideas of what he'd like to see on the walls, but nothing really concrete. He asked her to sketch some designs that they could iterate on.
While Jen was intimidated by the size of the job, and not very confident in her ability to come up with a design that would work ("just tell me what to put on the wall, and I'll do it"), she came back with a wonderful set of drawings. Trever was very happy with them, so she started putting them up on the wall.
Shortly after this, I was at the orthodontist's office for an appointment. Every person I talked to was excited for Jen, and very happy that she was getting a chance to let her talent shine. The receptionist even took out her phone and showed me pictures of Jen's charcoal work.
Here's what she created for the entryway: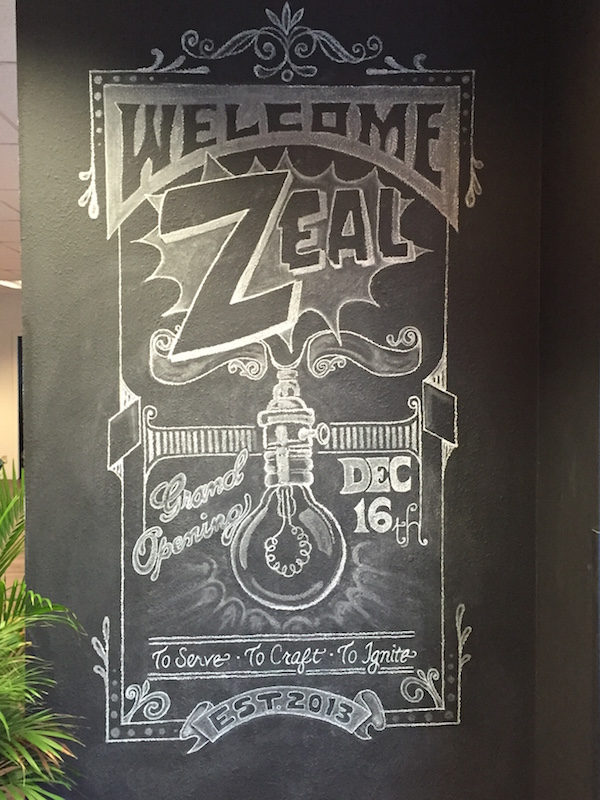 And here's what's happening on the larger wall. She's not finished the entire wall yet. Most of what you see in this picture was done in time for the grand opening, but that's only about two-thirds of the wall. I told you it was a big!

As you can see, she came up with an amazing design and executed it very well (on textured walls and working around an unfortunately-placed thermostat, no less).
The Point
So why am I telling you this story?
Throughout the process, Jen wasn't terribly confident in her ability to do this job. She didn't want to be the one to come up with the design, and the scope of the large wall was intimidating. But everyone she worked with was excited for her and thought she was perfect for the job.
There has been much said about Impostor Syndrome lately, and maybe this was another case of it.
Thankfully, Jen worked through her nervousness and challenged herself to do something bigger than she thought she was capable of. Now we get to enjoy her work every time we come into the office. We've had many visitors asking about the walls and the artist, which I think is a testament to the job she's done.
I hope Jen's story encourages you. If there's something you love doing, and the people around you are telling you to pursue it, go for it! Even if you're scared or nervous, give it a shot. I'm not saying you should immediately quit your day job. But you should find a way to give yourself a chance to use your gift in some way.
Don't sell yourself short!